Secure Destruction Services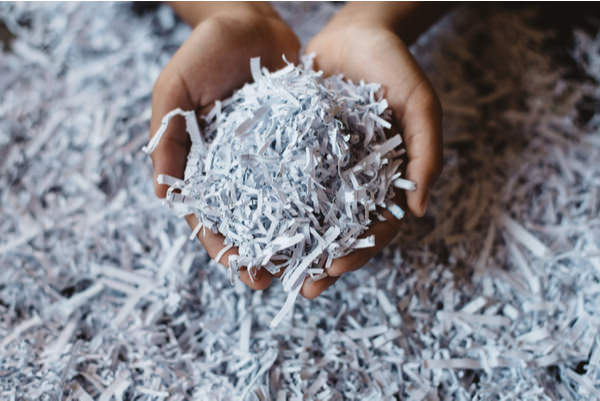 At MetalQuest, we provide confidential, cost effective and secure destruction of hardcopy records, film based records, digital data and media, electronic equipment, medical equipment and other business products through our shredding, degaussing and Big Blue Barrel programs.
MetalQuest uses the following secure destruction methods in accordance with federal and state regulations and best practices.
Paper media is shredded and baled. The shredded and baled material is sent for recycling whenever possible. Any paper that is non-recyclable is disposed of in an approved manner.


Film-based media is destroyed by a three step process. First, the film is shredded, chipped and/or pulverized into small unreadable flakes. Second, the film is processed to remove any silver. This step is crucial because it renders the film clear and devoid of any image including those created by silverless processes, e.g. diazo and vesicular films. Third and finally, the clear film base is further recycled for use in new products while any reclaimed silver is refined for reuse thereby minimizing any residual waste.


Magnetic media is degaussed and shredded. The resulting shredded material is further recycled when possible, again minimizing residual waste. Any residual waste is disposed of in an approved manner.


Like magnetic media, optical media including videotape is shredded. The resulting shredded material is further recycled when possible, reducing residual waste. Any remaining waste is disposed of in an approved manner.


Medical equipment destruction methods will vary depending upon the material(s) and the presence of any precious or heavy metals. All destruction and recycling will be performed using standard industry methods.


Hard drives are physically destroyed by shredding. The scrap metal is recycled. Drive inventory services are available.


A Certificate of Destruction is provided to the customer upon completion and a copy maintained at MetalQuest.


Big Blue Barrel Program
MetalQuest offers its Big Blue Barrel program for all types of businesses needing confidential destruction of products, equipment, magnetic media, paper, film, etc. on an ongoing or as needed basis. Big Blue Barrels and Boxes are available in three convenient sizes to meet your needs. All destruction is secure and confidential.
Every Big Blue Barrel or Box includes the following:
The Big Blue Barrel (BBB) or Box
Freight to Your Location
Unique Tracking Number
Return Shipping Paperwork
BBB Numbered Barrel Seal
Confirmation your BBB was received by Big Blue Barrel
Certificate of Destruction stating how and when the contents of your BBB were securely destroyed and recycled
Contact us for more information on the Big Blue Barrel Program and the types of products that can be destroyed and recycled.